Andrew Fuyarchuk, academic and author, spent some time accumulating in-person documentation of a few prominent local historic families.
This month, he shares the following parts of a recorded conversation with Whittamore family farm's Mike and Frank Whittamore.
My great-great-grandfather Henry Lapp came here from Pennsylvania like a lot of the settlers did back then.
He might have come straight from Germany through Bucks County in about the late 1700s or early 1800s and ended up purchasing Lot 2, Concession 10, Markham which is Lot 2 of Reesor Rd. It is two lots north of Steeles Ave.
It was a 200-acre parcel in 1804. At that time, it wasn't Crown land. The land had been gifted to soldiers who had served in late 17th century wars in Europe.
After Henry Lapp purchased the land he started to farm, but there was a lot of disruption with the war of 1812 at that time. He was apparently part of the militia that fought during that war. Then he started concentrating on his farm in early 1815 or so. He had 11 children and passed away in 1844.
After that, the 200-acre farm was split into three and was given to three sons (Joseph, David and William), but the youngest son, Joseph, who was five years old at the time and born in the '30s, ended up getting the whole property. When he grew up, he farmed the land until he passed in 1922.
His son Arthur, who was my grandfather and always wanted to be an engineer, farmed it until 1941. Even so, he designed some of the bridges in the area and the barn that is still here (now owned by the Catholic Arch Diocese). Unlike most barns that are typically post-and-beam, Arthur's barn here is made of trusses. He had two children (my mom and my uncle). They were young when my grandfather passed away. She was 16 and my uncle Harold was 13.
He took over the farm when he was thirteen with his mother, my grandmother. My mother was a school teacher and she helped my uncle farm it until the mid-40s.
But during that time, a lot of land changed around here. Parts of the land were sold off. The back 60 acres was sold off, and then in the 1950s, my dad purchased this 50 acres, which is part of Lot 1 and was originally a Milroy farm. And it is the 50 acres on rear end of Lot 1, Concession 10. And adjacent to it is 30 acres of original Lot 2, which my dad rented from a neighbour.
My father met my mother Evelyn Lapp. She grew up on the adjacent farm. They met in the early '50s and were married in '57. My dad was a market gardener. He grew fruits and vegetables and sold them in the city at the Toronto Food Terminal and to local markets.
In 1956, to salvage a strawberry crop they couldn't pick themselves, they decided to open up their gates to the general public and offer them to come and pick it. It started by happenstance, but within a couple of years, they had turned that into a business venture because people wanted that type of way to consume product.
They were basically pioneers of pick-your-own in the province of Ontario. They grew that 'pick-your-own' throughout the late 50s and 60s. And then in 1972, they were expropriated. We ended up going on to five-year leases and renting the land back from the government.
In the '80s my brothers and I started taking over this farm.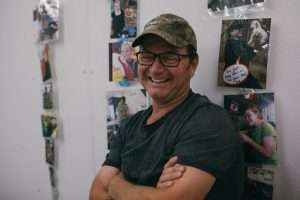 I don't know if you heard about the expropriation, but that's when the Ontario government and Federal government expropriated 40,000 acres for the Pickering Airport. This was part of the provincial lands that was expropriated.
All the land in this area was purchased basically east of Reesor Rd. down to the Metro Zoo, up toward 16th Ave. and over to Brock Rd. The province took 22,000 acres and the feds took 18,000 acres.
Under an expropriation act, the government can come in and take your land for a government initiative. They pay for it, but at that point in time, it wasn't just for a huge highway or some government initiative. It was basically a huge land grab by the two governments that took 40,000 acres off the market.
At that time, there were a lot of speculators who owned a lot of property out here, but my dad owned this 50 acres. The next-door neighbour had 30 acres, which he was renting, which was part of the original 200-acre farm that was settled in 1804. And my uncle still had his farm, and he was expropriated. We went through that in '72.
In 1996, the Harris government came out and said, "We want to start selling off some of our assets."
Land is one of their assets, so we ended up buying it back. We didn't get the original farm (there was a lot of political things going on), but we got back this 50 acres and 33 acres of the original 200 acres.
"Living back then in the country, there were no cars, there were no people," said Mike Whittamore, reminiscing about growing up in Markham. "Steeles was a gravel road. It would fill right in, in the wintertime, with eight feet of snow."
In 1970, we wanted to buy a skidoo. My dad said, "Well, go sell pumpkins." So we grew pumpkins all summer long. We came right out here, right by the road and we sold pumpkins, the four of us (David, Mike, Frank, Cathy) in the fall time.
We sold pumpkins out at the end of the road and we made enough money. We made $900, which was enough to buy a skidoo. We had 10 great years of snow in that skidoo.
We took that thing everywhere. We used to have a rope and we'd tow somebody either on toboggans or skis. We went up and down the Rouge.
Back in 1970 on the Rouge at Cedar Arena on a Saturday night, not only would the rink be full of people, but there would be 70 or 80 snowmobiles coming down. They'd all park and go in and get a hot chocolate. It was a Grand Central Trunk time for skidoos.
When dad bought this farm in '52, it needed organic matter. What they used to do to provide the feed for the pork, there'd be a guy called a swill-feeder. He'd go down to all the restaurants (Frank, 'hotels') and pick up all the (Frank, 'food') scraps and he puts it in a big boiler and cooks it up and then they'd feed it to the pigs. Slop-in-the-hogs.
But if you've ever been a busboy, and I've been a busboy over here at Cedar Brae, when you're scraping that thing you don't really care so you throw the fork in and maybe the lid of the tea-pot goes in.
Just out back here, every spring, the swill-feeder guy would come and dump 50 or 100 loads of manure from the pigs back there. So we used to ride our bicycles over these piles of manure and we would collect all the bits and pieces. We had a playhouse full of a complete set of stuff from the King Eddie hotel. Good quality china.
In the springtime, they'd pile the manure so there were always these low spots and I can remember my boots getting stuck, and I would go in with my bike and wipe out. We never thought anything of it. We have good immune systems, that's for sure.
Photo: Two centuries of farming at Whittamore farm. Photo courtesy of Kenny Wang. Interview submitted by Andrew Fuyarchuk.