The Burkholder Family
Andrew Fuyarchuk, academic and author, spent some time accumulating in-person documentation of a few local prominent historic families.
This month, he highlights parts of a recorded conversation with Art and Doreen Burkholder about their early days in town.
Early years in Markham
Art: I was born east of 9th Line on #7, south side. And the house has been renovated and updated. That house is still standing. It's now part of the Cornell development.
When we moved (to Church St), we were the second last open lot on this side of (Church) street. That whole area behind us was open and across the street was open.
Doreen: Church Street was a gravel road past the high school, the old high school that they tore down to build the new one.
Art: Within ten years they started filling that in. That was probably the beginning of growth and everything picked up in the '90s and past 2000. When we moved here we didn't even have a sewer. We had to put in a weeping bed for example.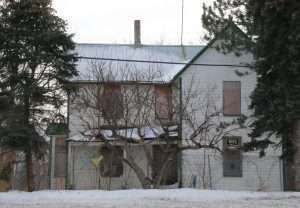 Doreen: I moved to Markham when I was two-and-a-half. So, I've seen a lot of changes, some good and some bad. I lived with my grandparents on Main Street. After my father died, my mom and I moved here (we lived on Main Street) from my grandparents' farm. We had two little chicken coups and my grandfather raised chickens and eggs for the market.
How the families connect
Doreen: Turner was my mother's maiden name. Not as large a connection as the Burkholder's. We were connected to the Pugh's. My immediate relatives, grandparents, were living on the Markham-Pickering town line and so our connections were Whitevale. That's where I went to church as a youth.
Art: My mother was a Hoover, and her mother was a Wideman. Both are common names. My dad of course was a Burkholder, but we're tied into the Reesor clan. And so there's Reesors all over. Esther Reesor was on a farm immediately to the east of us. So we interacted with that farm. Her brother would come in and do the silo filling for dad. The Gould's lived across the road. They were my third cousin. I'm connected to Grove's through marriage.
My dad went to a blacksmith sometimes in Cedar Grove. We were tied into Box Grove because I went to Box Grove School. My dad was a trustee. He farmed and so he went to a machinist down there. We were tied into Markham because this is where the grocery stores and banks were. Dad came to a grist mill in Markham. Our neighbours went to Locust Hill School and there was a general store in Locust Hill. All those were our communities. And we knew everybody and they all knew us.
I cherish my growing-up years. It was wonderful. And then we were tied a little bit to Stouffville because my mom's brothers and sisters were largely in the Stouffville area. We would go to Cedar Grove Church in the morning and Wideman's Church Sunday night.
Doreen: And right across from the Church there was a famous skating rink.
Art: Ice down in the valley at Cedar Arena, with a potbelly stove and dressing rooms for putting on your skates.
Doreen:  That was a busy Saturday night. Tuesday night was public skating as well. A lot of people from the community were there.
Life on the Farm
Art: I helped my dad on the farm even when I was going to school. That's just the way it was. Sons and daughters helped their parent's farm. My dad went to St. Lawrence Market, the farmer's market, every Saturday and so I would help him prepare produce, merchandise to take down to farmer's market and occasionally I would go alone. And my uncle went to farmer's market, well actually two uncles and my great uncle went and that was a big, big thing.
So, I guess what I'm saying is that my childhood didn't have a lot of time for frivolities on a device or in town sports or whatever because I was helping dad.
Doreen: And I remember Art's mom saying at one time when she was talking about the Depression that there wasn't much cash flow at that time, but they had their garden, and they had animals and so they were OK for eating and so didn't need maybe as much cash flow as some other people did living in some other areas.
Art: Dad shipped milk. He got a monthly milk cheque. That probably was more income than market, but both of them were significant. I took three years off before I went to university and I can remember going to different neighbours to help them with different fall activities. I went up the 10th line to help them there filling the silo.
Dad didn't have enough land to maintain his herd, so he would put his young cattle who weren't yet milkers on different farms in the area during the summer to graze. And sometimes one of those young Heifers would give birth to a calf. And in one case (dad was busy at another farm down 9th Line they were filling silo and dad went down to help him), I hitch-hiked up to the 2nd Concession of Uxbridge to look for this calf and I hitch-hiked back home. I would have been 16 years old when I did that.
Doreen: Those were the days when it was very safe to hitch-hike.
Photo: Art and Doreen Burkholder. Photo courtesy of Kenny B. Wang.