Canada Masq, a Canadian mask manufacturer, recently donated five million medical-grade adult and pediatric masks to Hope and Healing International's frontline medical partners in sub-Saharan Africa – a donation valued at $7 million.
The masks donated will go to African hospitals and clinics in desperate need of PPE due to shortages caused by the COVID-19 pandemic.
This generous donation will allow life-saving surgeries and treatment for children with disabilities to continue while reducing the risk for frontline medical workers.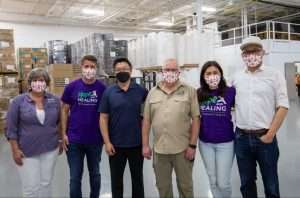 Hope and Healing's executive director, Ed Epp, expressed his deep gratitude for Canada Masq's partnership and extraordinary donation.
"The donation of these masks will directly lead to more kids walking, playing and going to school," Epp says. "It's incredible to see a Canadian company like Canada Masq have such a global vision. This is what community is about."
Canada Masq's donation of five million masks highlights the global difference that local partnerships and neighbourly collaborations can make. The company's founder and CEO, Anthony Zhao, recalls first connecting with Hope and Healing out of sheer curiosity. Noticing Hope and Healing's new office space located behind Canada Masq's production facility in Richmond Hill, Zhao stopped by the office one day to find out more.
When he heard about Hope and Healing's work that gives life-changing medical care and support to children with disabilities living in the poorest countries, he wanted to help. Canada Masq decided to pivot their operations to make five million masks for Hope and Healing's frontline partners.
"The pandemic again reminded us that we're in this together, it's a global village… [and] we have to remember there are people in other parts of the world that suffer," Zhao says. "We are very fortunate to be here in Canada and we're fortunate enough to receive all these supports from our government and healthcare service providers… We want to help other countries and people who suffer."
"These are wonderful people that have been… helping clinics, hospitals in some of the poorest nations in this world with much needed medical supplies and equipment. They've been doing this for a very long time."
Main photo: Canada Masq and Hope and Healing International work together to create masks at a team building event.